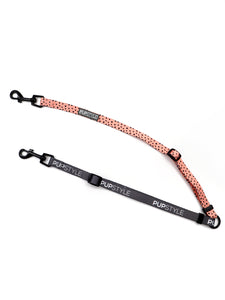 So you really want to be that person who takes their dogs walking each day, but every time you take both, it's a disaster. Bobo slips his collar while chasing after a speck of dust, while Fido poops on someone's expensive shoes left on the beach.
We've got great news; taking your fur babies out together need doesn't need to be a daunting task.
The Morocco Dual Lead Splitter keeps both doggos under control, without sacrificing on comfort and style.
The strong, woven polyester is tough enough to endure all the pulls and tugs, while the adjustable length means that both doggies can walk side by side, or one behind the other.
It has:
Two adjustable straps for two dogs to walk nicely together
Premium strength polyester strapping for the strongest pullers
Sturdy black spring clips to attach to your harness or collar
Never have a lead slip out of your hand again, simply because you couldn't hold onto both. Available in two sizes; small and large for your big or small sized pups.
Match it to the rest of the Morocco Collection for the complete look.
Durable weave polyester strapping

Easy to clean with a soapy sponge or simply throw in the washing machine on gentle cycle!
Keep metal hardware away from chemicals, sunscreens or perfumes to avoid tarnishing
AUS: $8 Flat Rate Shipping or Free shipping on orders over $100AUD.
NZ: $15NZD Flat Rate Shipping or Free Shipping on orders over $100NZD
USA: $9.80USD Flat Rate Shipping or Free Shipping on orders over $70USD
Canada: $12.50CAD Flat Rate Shipping or Free Shipping on orders over $100CAD
For all other countries and locations, see Shipping Information & Costs.
Returns & Exchanges
Our customers rave about our easy returns process. Eligible items may receive the option to exchange for a new size, return for a 110% credit or receive a full refund. Click here to view eligible items at our Returns Policy and lodge a return.
Adventure Strap Harness
A step-in harness designed with both a front lead attachment for strong pullers and a back lead attachment for general walking, plus the iconic PUPSTYLE neck and chest clips!
Adjustable Adventure Leash
Shorten or lengthen your lead when your adventure calls for more or less freedom!
Adjustable Adventure Dual Lead Splitter
Walk in sync with your fur-sibling or best fur-iend! When your human can only hold one lead, attach the splitter to the end for dual dog walks in one!
Adventure Collar
Your daily dose of style! This comfortable everyday collar is lined with soft neoprene and finished with a safe clip buckle. Plus, it's machine washable!
ADVENTURE POOP BAG HOLDER
A fancy little spot to hold your little things, including a full roll of poop bags!
Car Headrest Restraint
Getting to and from an adventure should be safe, comfy and most importantly - legal! In most states, it is illegal for your dog to travel in a car without a restraint. This one doesn't take up valuable buckle space and allows your dog to be restrained in the back seat, front seat or the boot!
Getting the perfect fit is so easy!
The Dual Lead Splitter comes in two sizes and both sides can be lengthened or shortened when needed.
Pick a breed that is the closest to your dog
100%
of reviewers would recommend this product to a friend
I recommend this product
I recommend this product
Dreams
The perfect companion to the Santorini set! this colour is what dreams are made of and the quality makes it even better.
The dual lead gives my two enough length to feel like they're walking on their own but keeps them at the same pace! it's also so much easier to walk two dogs by yourself!