When you're heading for a stroll down Main Street, the last thing you want is to carry 987 items. 
You need to prepare for all possible scenarios, so there's your phone, wallet, keys, the poop bags, puppy treats, human treats, and whatever else. Before you know it, you look like you're moving house just to take the dog for a walk.
Free your hands with the Dog Parent Pouch. You're going to need them to hold your gourmet doughnut.
This nifty little contraption hangs fashionably from the PUPSTYLE leash, and can fit everything you need. Seperate compartments mean that poop bags stay away from your valuables, and strong velcro stops items from falling out.
It has:
Three internal pockets secured with velcro to keep your phone safely stored away from your keys & valuables
A quick access slot to reach poop bags from the front - no need to open the pouch
Enough room to fit most large smartphones
Strong snap hook to attach to the ring on your PUPSTYLE lead
Lastly, the zipped pocket secures your phone with quick & easy access when you need to quickly snap a pic for the Gram.
Made from premium vegan leather and available in 8 colours to match your other PUPSTYLE accessories.

*The Loop should only be used to hold your lead against the pouch when the pouch is not heavy to stop it from swinging. When the pouch is heavy (eg. with your phone inside), it is less likely to swing, and the loop is not designed to withstand this much pressure - the loop simply acts as a guide to keep your pouch still.
Vegan leather outside, nylon inner
Easy to clean with fabric protector spray, or when pressed with a soapy sponge and left to dry
Keep rose gold hardware out of contact with perfumes, moisturisers and sunscreens
For best results, don't allow Vegan Leather to soak through. Spot clean only.
AUS: $8 Flat Rate Shipping or Free shipping on orders over $100AUD.
NZ: $15NZD Flat Rate Shipping or Free Shipping on orders over $100NZD
USA: $9.80USD Flat Rate Shipping or Free Shipping on orders over $70USD
Canada: $12.50CAD Flat Rate Shipping or Free Shipping on orders over $100CAD
For all other countries and locations, see Shipping Information & Costs.
Returns & Exchanges
Our customers rave about our easy returns process. Eligible items may receive the option to exchange for a new size, return for a 110% credit or receive a full refund. Click here to view eligible items at our Returns Policy and lodge a return.
Easy Access Poop Bags
When you gotta go, you gotta go! Don't leave your humans fumbling - simply slide a poop bag out of the Smart Slot for quick pick-up and nobody will even know you just did a Number 2 in public!
Safety First
Keep your valuables and phone seperate with three internal pockets secured by velcro, so there's no need to worry that your keys will fall out of the Smart Slot!
Smart Design
We've made a small improvement to our original design by adding a snap button loop to the back of your pouch to keep it still whilst out on your walks. *Only available in select colours. Check the main product photos for availability.
How-To:
The Dog Parent Pouch
With three interior pockets, keep all your valuables safe and seperate, plus enjoy quick and easy access to your poop bags when nature calls!
"I'm always the person holding a leash, my phone, my door key, and a coffee, and trying to pick up poop without dropping everything! So this pouch is a lifesaver. And I love that the little hole that the bags are dispensed from is just the right size to pull out a bag and not the whole roll each time"
Amelia J
More Reviews
Getting the perfect fit is so easy!
Want to know what you will fit inside your Dog Parent Pouch? Our Dog Parent Pouch can fit a roll of poop bags, a phone and some loose treats, coins and keys.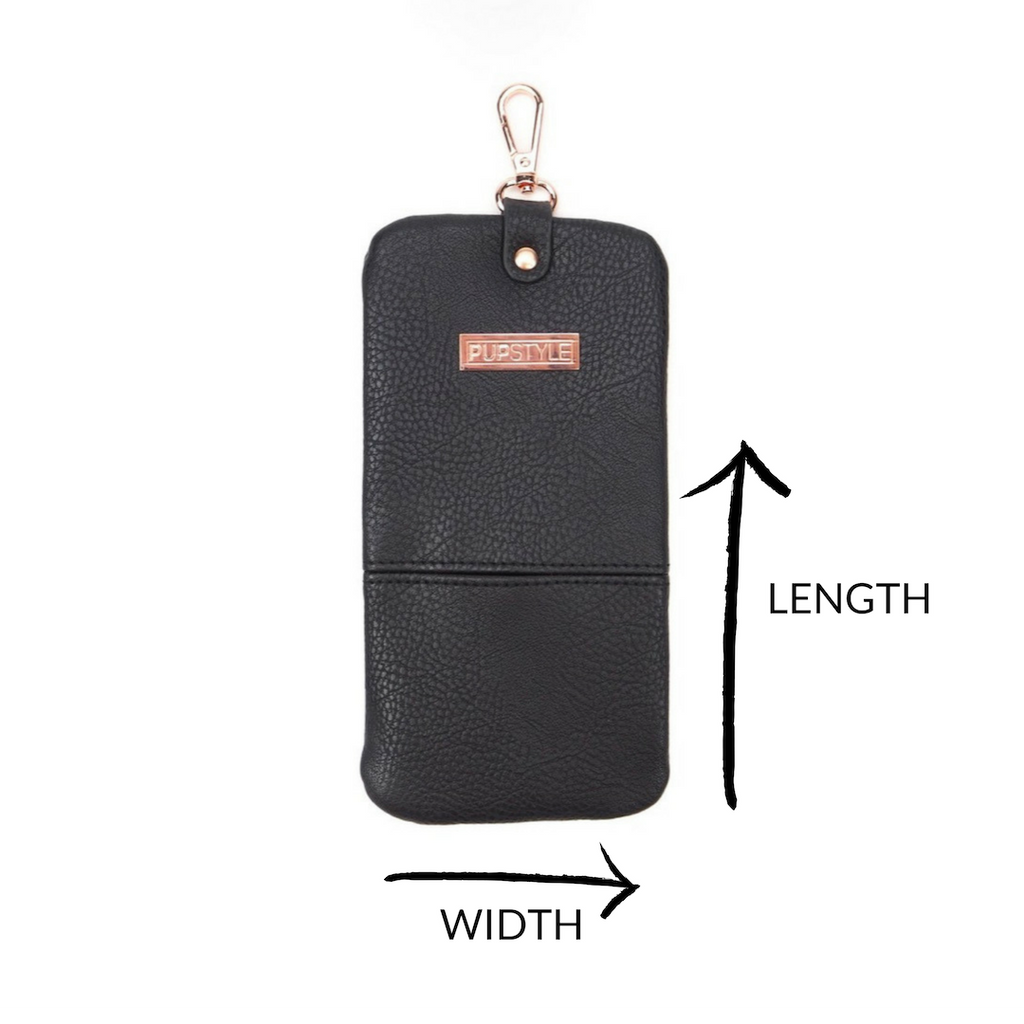 Pick a breed that is the closest to your dog
Replacement Pouch
Our first pouch was so durable and lasted over 2 years, but we decided we loved it so much that we purchased a new one to refresh our pooches look!
Great addition to our walk
Love it! Fits everything we need and the zip glides smoothly.
Soo handy!
Love this little clip on accessory. Found it a bit heavy to hang from the leash but it clips beautifully onto the side of my bag!
So handy
Such a great idea , luv it