Picture this: it was August, 2021 and our new customer, Daniella had just purchased two matching PUPSTYLE bandanas for her two pups, Bailey and Luna. Bailey is a big labrador boy whilst Luna is a smaller Cavalier X Springer spaniel.
When their new bandanas arrived, Luna fit perfectly into her new size small bandana but Bailey's large size bandana was a little tight on his bigger neck, so his Mum sent us an email at PUPSTYLE HQ asking if we made extenders so that Bailey could still match his sister.
Fast forward to January, 2022 and we can now introduce the Bandana Extender, inspired by Bailey and his Mama, so that all the bigger doggos can now fit into our Large size bandanas if they need a little extra room and all the growing doggos can extend the life of their puppy bandanas before they need to buy the next size. 
It has:

Button attachments to connect to both sides of your PUPSTYLE bandana

Can extend the neck measurement of any size bandana by 8cm
So thankyou, Daniella. Everyone who adds one of these to their cart is sending out virtual thankyou's to you.
Connects to both sides of any PUPSTYLE bandana
Extends the neck measurement of all sized bandanas
Interchange between all your existing PUPSTYLE bandana collection
Designed in Melbourne, Australia (courtesy of Daniella and Bailey)

Easily washed polyester that comes out looking brand new
Bandanas are designed for good looks. Not recommended for rough play
For best results, hand wash in cool water or machine wash cold & gentle 
Do not soak 
Do not iron directly on rubber logo
AUS: $8 Flat Rate Shipping or Free shipping on orders over $100AUD.
NZ: $15NZD Flat Rate Shipping or Free Shipping on orders over $100NZD
USA: $9.80USD Flat Rate Shipping or Free Shipping on orders over $70USD
Canada: $12.50CAD Flat Rate Shipping or Free Shipping on orders over $100CAD
For all other countries and locations, see Shipping Information & Costs.
Returns & Exchanges
Our customers rave about our easy returns process. Eligible items may receive the option to exchange for a new size, return for a 110% credit or receive a full refund. Click here to view eligible items at our Returns Policy and lodge a return.
A touch of Luxe
What's neck candy without some bling? Your new bandana features our signature Rose Gold logo for a little extra sparkle!
Button-Up & Stay Put
For pups who need a bandana that's quick and easy to put on and will stay on all day, the Button-Up style will quickly become your best friend! Hello, instant outfit changes!
How-To:
The PUPSTYLE Bandana
We designed our bandanas with a three-button closure to stay on all day long. Attach at the loosest buttons for a wider fit or at the tightest buttons for a smaller fit.
Why a button-up style?

In our first year of starting PUPSTYLE, we offered both a tie-up bandana style and one that thread over the collar. Our customers loved the tie-up style because it was quick and easy to take on and off, but they would often come loose and untie themselves. Other customers loved our bandanas that thread over the collar because they stayed on all day, but they didn't like having to take their dog's collar on and off to be able to thread it on. So we came up with the best of both worlds and combined it into one unique design - a button-up style that stays on all day and is quick and easy to take on and off!
"My puppy, Teddy, looks so handsome in this bandana and they are so easy to use. Press studs made it heaps easier than having to tie them on. I just love ours and I can't wait to order more!"
Amanda L
More Reviews
Getting the perfect fit is so easy!
Get your humans to measure your neck size and check in the table below.
Button-Up Bandanas should fit around the dog's neck and button up at the back. Every bandana can be adjusted at 5 different neck sizes by securing the bandana on a different button. *Please note that these should not be a tight fit - allow 1-4cm extra on top of neck measurement for a comfortable fit.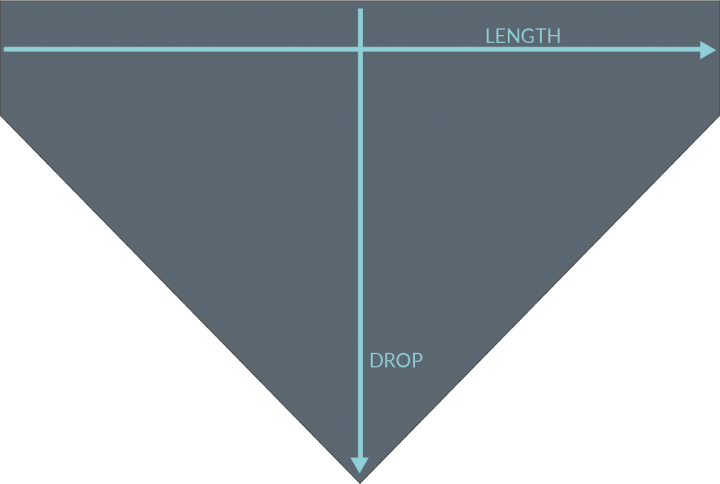 28cm - 42cm
11in - 16.5in
32.5cm - 47cm
12.8in - 18.5in
41cm - 52cm
16.1in - 20.5in
Extender (sold seperately)
Adds up to 8cm extra neck length to any PUPSTYLE bandana